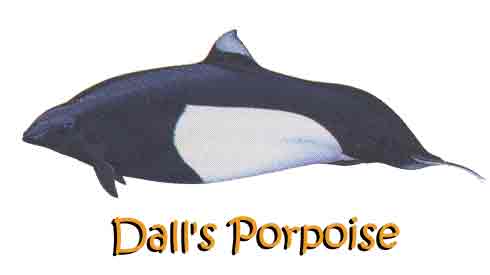 Habitat and Distribution | Physical Appearance | Behavior | Breeding and Reproduction | Diet | Fun Facts

Lots More: Sounds, Videos, Etcetera on Marine Mammals
Dall's porpoises (scientific name: Phocoenoides dalli) can be found in waters that range in temperature from 37 - 68°F (3 - 20°C). They inhabit subartic to cold temperate waters only in the Pacific Ocean in the northern hemisphere. Dall's porpoises are commonly seen inshore and offshore from southern California to Alaska. They appear to prefer waters greater than 600 feet (180 meters) deep.

There are two types of Dall's porpoise, the dalli and the truei. The difference between the two types is determined by the different distributions of the black and white coloring. The dalli can generally be found in the open ocean whereas the truei is generally found in the coastal areas. The truei-type is abundant only off the Pacific coast of northern Japan.
The body of a Dall's porpoise is very muscular, robust and stocky especially in the mid-region. Males are thicker than females. Dall's porpoises have a very small rounded head with a small, narrow mouth containing 20 to 24 teeth in each side of the jaw. A Dall's beak is very short when compared with the beaks of dolphins such as the bottlenose and the common. The eye color is black or dark blue with an iridescent blue-green pupil.

Color: Dall's porpoises are black and white in color. The color pattern varies from porpoise to porpoise, but most are black on the upper side of the body and white underneath with white oval shaped marking on both sides. The dorsal fin may be all black, all white or patterned with white markings.

Length and Weight: The Dall's porpoise is small for a cetacean. The average size of a male is 6 feet to 7.5 feet (1.8 - 2.3 meters) and the average size of a female is 6 feet to 7 feet (1.8 - 2.1 meters) in length. The average weight for both females and male porpoises is 270 pounds (122 kg), with a maximum weight of 350 pounds (159 kg).

Fins: The dorsal fin is located slightly forward of the center of its body. It is triangular and small in shape. The flippers are also small, and rounded at the tips.
Dall's porpoises have been seen in groups ranging between 10 - 20 individuals, and when groups merge, several thousand porpoises can be seen swimming together. These marine mammals like to hunt in large groups and are often seen associating with Pacific white-sided dolphins or pilot whales. Dall's porpoises are a fast-swimming species. While swimming at high speeds, these mammals create V-shaped splashes of water known as a 'rooster's tail'.
Males reach sexual maturity at 6.5 feet (2 meteers) or at 8 years of age. Females reach sexual maturity at about 5.5 feet (1.7 meters) or at 7 years of age. A female is pregnant between 10 and 12 months. When a calf is born, it weighs approximately 55 pounds (25 kg) and is about 3.5 feet (1 m). Calves may nurse for 2 years. Females bear their young primarily during the summertime, but in the United States, coastal populations' calving occurs year-round. Dall's porpoises are believed to live for a maximum of 20 years.
The diet of a Dall's porpoise depends on where it lives and what food is available in the area. These marine mammals eat a wide variety of prey species, such as fish and squid in the open ocean and schooling fish in coastal areas. Types of schooling fish include capelin, sardines, and herring. Dall's porpoises generally feed at night and usually eat about 28 to 30 pounds (12.7 to 13.5 kg) of food each day.
Dall's porpoises are fast swimmers and like to ride the waves of boats. This porpoise was named after William H. Dall, who was the first to identify the species.
Scientists can identify a group of Dall's porpoises by the characteristic 'roosters tail' splash created when the porpoises swim at high speeds.

Lots More: Sounds, Videos, Etcetera on Marine Mammals