Lots More: Sounds, Videos, Art, Etc. about Marine Mammals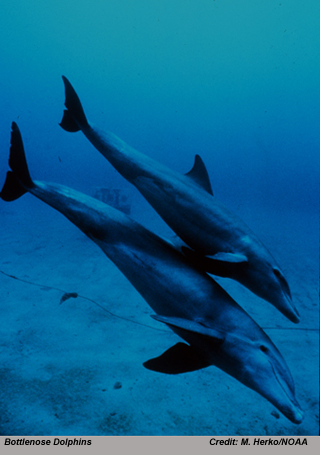 What do whales sound like?
How do we know what they sound like?
Where can I learn more about Animals and Sound in the Sea?
SONGS
Song of the Oceans/Gary Bowman

A compilation of original songs celebrating the ocean world and the variety of creatures living there.



Video: Common Dolphins Swimming and Leaping

Video shot right off the coast here in Santa Barbara.
Includes free videos and clips on marine mammals and the marine environment. Highlights the work of international reserchers and examines global conservation issues.
Video clips of whales, dolphins and other mammals
Fabulous stuff on sea mammals, as well as fish and kelp, from the Encyclopedia of the Sanctuary produced by NOAA's National Marine Sanctuaries.
Precipice of Survival: the Southern Sea Otter

A video from the United States Geological Survey about Southern Sea Otters (also known as California Sea Otters) and their struggle for survival.
Whales of the Mediterranean Sea


Whales of the Mediterranean Sea, a five-part documentary film series, is available with subtitles in six languages. The documentaries are accompanied by complimentary education materials.
Hawaiian Islands Humpback Whale National Marine Sanctuary's Ocean Art Contest winners
POEMS & STORIES
Hawaiian Islands Humpback Whale National Marine Sanctuary's Ocean Poems & Stories winners
CAREERS
How can I pursue a career involving marine mammals?
More on Marine Careers from NOAA's National Marine Sanctuaries
Centers for Ocean Sciences Education Excellence's (COSEE) Ocean Careers website
Channel Islands/Encyclopedia of the Sanctuary
Marine Mammals/National Marine Sanctuaries
Whales, Dolphins and Porpoises/NOAA's National Marine Mammal Laboratory
OceansLive Teachers/National Marine Sanctuary Program
National Geographics' Oceans for Life for Teachers
National Marine Sanctuaries of the West Coast's Field Guide
Website where you can join a "working group" and use data to simulate establishment of a marine reserve area around Anacapa Island, one of the Channel Islands off the coast of Santa Barbara, California.
Endangered Whales/NOAA Kids and Teachers Corner
Games and interactive activities focused on ocean themes